PDP Crisis: Atiku, Wike Peace Talk Suffer Setback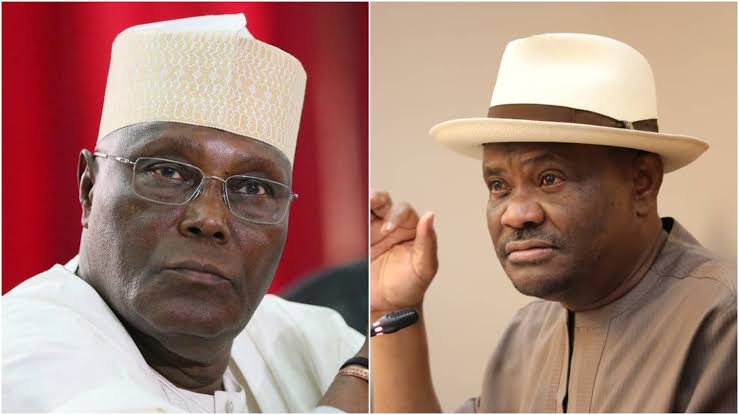 On Monday, there were signs that the reconciliation discussions between Rivers State Governor Nyesom Wike and PDP presidential candidate Atiku Abubakar had encountered a significant setback. Wike once more promised to let down those who had underestimated his state.
The Rivers State Governor highlighted that it was irresponsible to give votes away without the promise of derivable benefit for the people during his speech at the opening of the Orochiri-Worukwo (Waterlines junction) Flyover. He cited the dynamics of modern politics as the reason for this.
Nobody could take Rivers' votes for granted, the governor remarked, making a covert reference to Atiku and the PDP national leadership.
The governor was criticized by former lawmaker Senator Lee Maeba for portraying himself as superhuman. In an interview with The Punch, Maeba claimed that Wike's proximity to Atiku was the root of his problems with him.
The Elechi Amadi Polytechnic, Rumuola Governing Council, commanded by Maeba in Port Harcourt, was dismissed by the governor last week.
Related Posts:
Since the former Vice President chose Delta State Governor Ifeanyi Okowa as his running partner, relations between Wike and Atiku have not been good.
Iyorchia Ayu, the PDP National Chairman, was reportedly forced to quit as a condition of working for Atiku by Wike and his allies. However, several party officials rejected Wike's request.
The governor of Rivers, who had been anticipated to be chosen as the party's vice-presidential candidate, has since been mingling with other APC governors.
The governor invited Babajide Sanwo-Olu, his equivalent in Lagos State, to inaugurate certain projects on Monday.
No one should expect to win Rivers State's support without at least providing something in return, the governor of Rivers State stated in a subtly critical statement of the PDP's national leadership.
The governor was reported to have targeted state politicians who were connected to the PDP presidential candidate in addition to his subtly directed criticisms of Atiku and the PDP.
According to reports, some of them visited Atiku without Wike's consent.
On Monday, Wike stated, "If you say Rivers State does not matter, Rivers State will tell you that you don't also matter at the appropriate time. If you don't like us, we will not like you. If you like us, we will like you. Nobody will use our votes for nothing. Our votes will matter and Rivers State must benefit from anybody that we are going to support.
"Politics now is no longer just voting for somebody; it is about what you will do for the people of Rivers State," Wike stated.
He emphasized how challenging it would be for any conspirators to alter Rivers State's voting patterns.
Wike reaffirmed that candidates for governor of Rivers State would not receive support if they plundered the state's coffers.
"My guest from Lagos State; let nobody tell you a story that anybody will come here to win as governor of Rivers State. It will not happen. Those who looted the treasury of the state will not come here to be governor of Rivers State and I have challenged them.
"I am fully in charge. I am not that kind of governor people will go to Abuja and hold meetings against. I am fully in charge here," the governor said.