Central Bank Devalues Naira To Bridge Gap With Unofficial Rates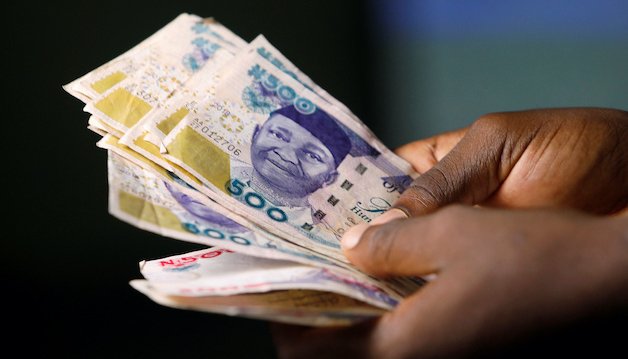 In an effort to unify the naira, the Central Bank of Nigeria has devalued the naira in order to eliminate the instability of the exchange rate of the country's currency.
Brandnewsday reports that the CBN while responding to mounting pressure from external lenders, the U.S dollar shortages and a slump in oil prices has flipped the country's budget. Therefore, leading to the devaluation of the currency.
According to Reuters, traders said that the central bank requested dealers to submit official bids at 380 to the dollar last Friday.  Meanwhile, the naira closed at 381 to the dollar on Tuesday, down about 5.5 per cent from the previous official rate of 360.
The most populous country in Africa splashed the value of its currency during the height of global market instability in March when the country's key export–the price of oil collapsed. Despite that, the exchange rate had held at around 307 for more than three years.
Naira: CBN Devalues Naira
Still, the naira trades at over 450 to the dollar on the black market, and analysts said it could still slide further. Goldman Sachs analysts last week noted "high and sticky" inflation in the country, with persistent outflows from official reserves. A rate of 500 naira to the dollar in 12 months' time was a "reasonable target", the bank said.
The large gap between official and informal rates for the naira is a sign of intensifying shortages of foreign exchange, said Cobus de Hart, an economist at NKC African Economics, in a note on Tuesday.
Win Thin, head of the currency strategy at Brown Brothers Harriman, said that this week's move "really has a little practical impact". He added: "With oil prices stalling out at levels well below where they started the year, the outlook for the Nigerian economy remains poor."
But analysts and economists have long argued that a single rate would help to provide clarity and attract much-needed foreign investment.
Central Bank of Nigeria Governor Emefiele
Central bank governor Godwin Emefiele in June disclosed that the bank would unify rates after the IMF in April approved Nigeria's request for $3.4bn for emergency funding while saying that unification of rates "should be expedited".
The recent devaluation is "a step in the right direction," said Temi Popoola, head of Nigeria at Renaissance Capital in Lagos. He added that "more needs to be done".