How I Made Oshiomhole Governor And APC Chaiman-Obaseki Spills More Can Of Worms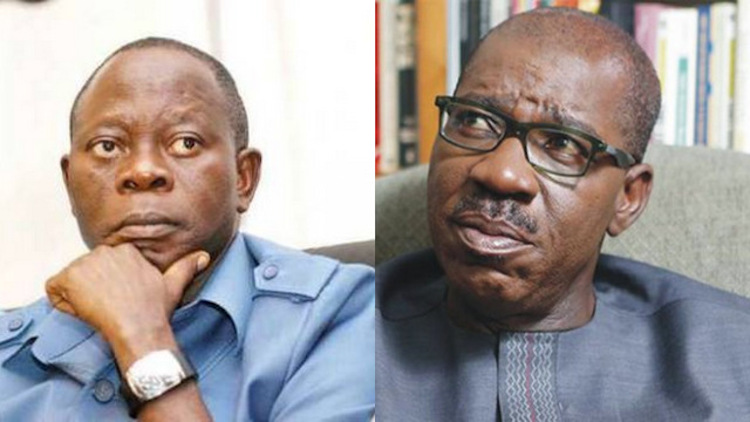 Edo State Governor, Godwin Obaseki has revealed his impact that led Adams Oshiomhole to became the governor of the state and the National Chairman of All Progressives Congress (APC).
Brandnewsday reports that Governor Obaseki disclosed that he was part of the system that made Oshiomhole the state governor while addressing journalists in Abuja after he submitted his nomination forms at the party's secretariat. Edo State Governor made this known after he handed his nomination form to the APC's National Organizing Secretary, Emma Ibediro.
Obaseki stated that Oshiomhole was broke when he left the labour union to contest for the governorship election in Edo state and he helped him.
Recall that Oshiomhole contested under the Action Congress in 2007, lost to PDP's Oserheimen Osunbor but later got back his mandate through a court ruling in 2008.
Brandnewsday had earlier reported that the Governor Obasakei, has described the  APC National Chairman as a betrayer despites his failed promises to God.
Speaking on how he helped Oshiomhole, Obaseki said aside from him financially helping Oshiomhole to became the governor, he also made sure he became the National Chairman of the APC.
While stating his grievance on helping Oshiomhole became Edo State first citizen and serving him for eight years, Obaseki claimed he gained nothing in return not even a 'kobo'.
"In life, everybody gets help; everybody gets assisted. The person talked about (Oshiomhole) had no money when he left labour to contest (as governor). We knew what we did to make him governor.
"I sacrificed eight years of my life pro bono, I collected no kobo to serve him in Edo. Today, we know what we have built because of where we started from," Governor Obaseki said.
Speaking on his influence in Oshiomole chairmanship, Obaseki said: "So, when you talk about betrayal, let us be very clear. I want to put it on record that I am grateful, he assisted me just as I assisted him. I know the sacrifices we made to make him national chairman. So, what are we talking about?"
On victory, the Edo State Governor boasts that he was sure of victory, whether the party adopted direct or indirect primaries but laid emphasis on the need to follow constitutional requirements.