University Of Oxford and FMDQ Group Launch Pioneer Global Partnership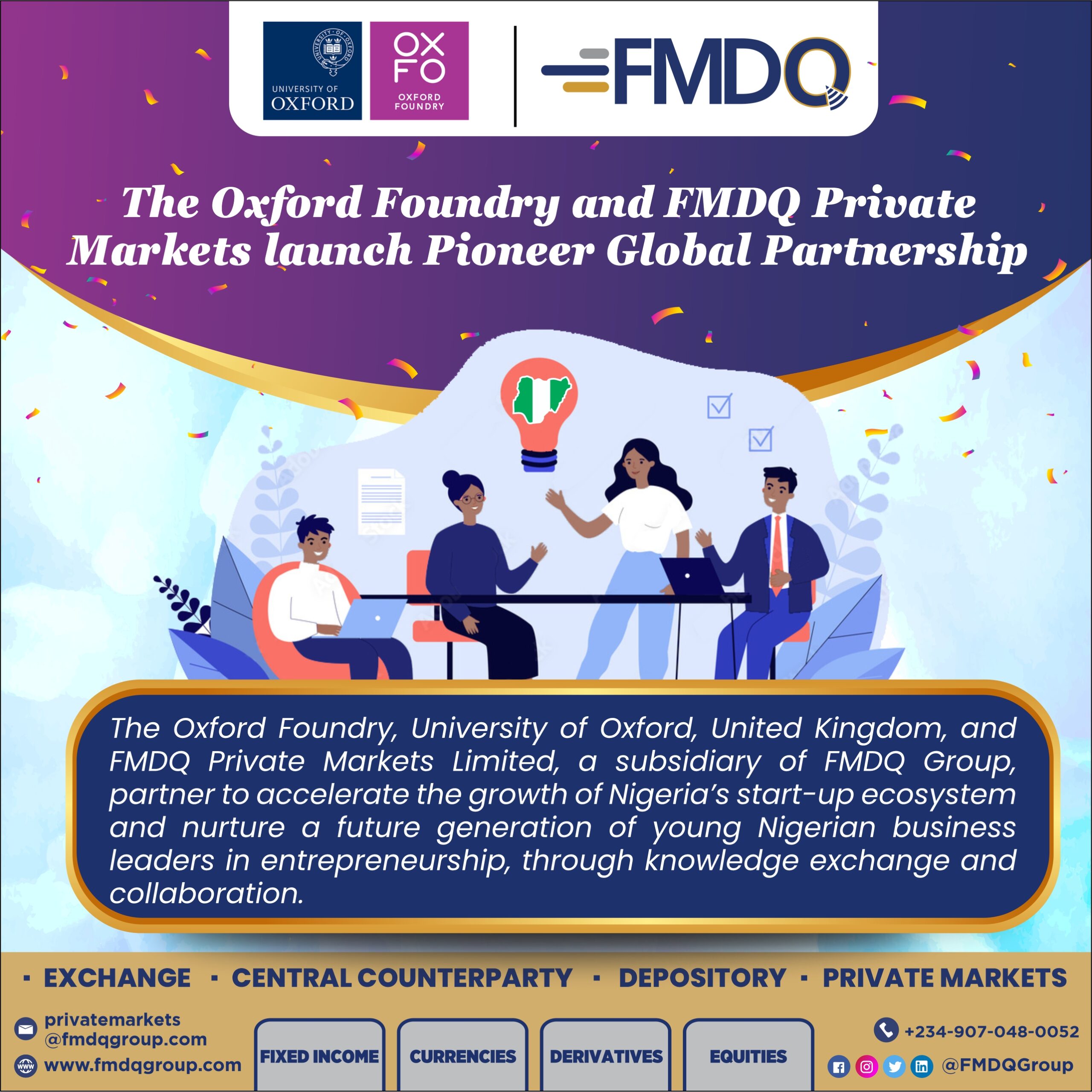 Oxford Foundry and FMDQ Private Markets to Accelerate Nigeria's Start-up Ecosystem and Nurture Young Business Leaders The Oxford Foundry, University of Oxford, United Kingdom, and FMDQ Private Markets Limited ("FMDQ Private Markets"), a subsidiary of FMDQ Holdings PLC, Nigeria ("FMDQ Group"), Africa's first vertically integrated financial market infrastructure group have launched a global partnership to accelerate the growth of Nigeria's start-up ecosystem and nurture a future generation of young Nigerian leaders in entrepreneurship, through knowledge exchange and collaboration.
The partnership will support Nigeria's future business leaders and high-growth start-ups to access the networks and skills they need to grow and sustain their businesses, create jobs and inclusive socioeconomic growth, and facilitate the growth of Nigeria's venture ecosystem.
Critically, the partnership supports collaboration and knowledge exchange between the UK and Nigerian angel investment communities, as Nigeria's community matures. Ventures will be supported to develop market solutions in high-potential sectors such as technology, agriculture, green industries, and healthcare.
Nigeria has one of the largest numbers of technology start-ups in Africa and has been identified as one of the eleven '3G' countries by Citigroup – countries of large growth potential and profitable investment opportunities. There is an increasing number of programmes to support Nigerian startups, with corresponding high demand, implying that there is huge potential and opportunity to create new partnerships to support high growth-potential businesses, and an increased need to access capital.
Currently over 80% of venture/start-up funding comes from an entrepreneur's personal or family resources. Through this partnership between Oxford Foundry and FMDQ Private Markets – the largest private capital platform in Nigeria, – a bespoke Programme, starting in late 2021, leveraging the University of Oxford's global, multidisciplinary networks and Nigeria's entrepreneurship ecosystem, to support Nigeria's future business leaders and high-growth start-ups to access the networks, skills and investment pathways they need to grow their businesses, has been co-created.
The Programme is focused on three (3) key areas, to Upskill, Grow and Accelerate, with the facilitation of the training of twenty (20) young Nigerian aspiring entrepreneurs and future leaders through the OXFO-FMDQ Young Entrepreneurial Leaders programme; the promotion of knowledge exchange and shared best practice across Oxford's and Nigeria's angel investment communities, through roundtables and relationship building initiatives, to unlock vital capital; and the acceleration of five (5) high-potential Nigerian startups through a tailor-made OXFO x FMDQ Start-up Bootcamp, to scale up transformative social and economic impact in Nigeria.
The Programme leverages the Oxford Foundry's unparalleled assets, including networks, partnerships and a venture building and leadership curriculum delivered by some of the world's leading experts. According to Ana Bakshi, Director of the Oxford Foundry, "I am sincerely pleased to launch our first global partnership with FMDQ in Nigeria. Nigeria has one of the largest number of tech start-ups in Africa, and Africa is a continent of immense entrepreneurial talent and high-growth venture potential