APC Returns 13 Bags Of Rice Out Of 250 Bags Three Months After (PHOTOS)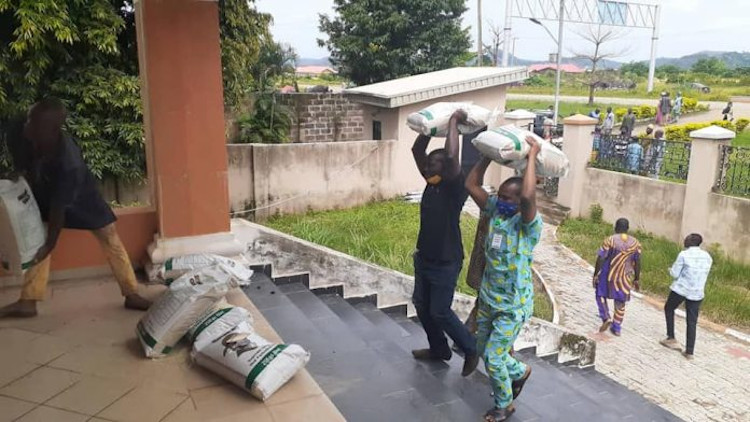 It was a mild drama in Ekiti State as the All Progressives Congress (APC) chairman and secretary of the party in Ado returned 13 bags of rice donated to them by Senator Babafemi Ojudu.
Brandnewsday gathered that the 13 bags of rice were returned back to his house about 10:30 am, on Monday by a team led by the State Deputy Chairman of the party Mr Sola Elesin.
In March 2020, Babafemi Ojudu, Special Adviser to President Muhammadu Buhari on Political Affairs was said to have donated 250 bags of Rice, Semovita, Beans and other items to the party, religious leaders and others in the state as effects of palliatives to cushion the effects of COVID1-19.
A source close to Ojodu said: ''it is disappointing that the loyalist of Governor Fayemi will descend so low to the extent of returning rice donated 3 months ago, but if they want to do so let them bring the brand of rice we gave to them.
"It is sheer pettiness at play, if the effort of saving the lives of Ekiti APC Party members especially the Constituency of Senator Babafemi Ojudu against hunger during the lockdown, can be turned to a melodrama just to score a cheap political point by ordering the Party EXCOS loyal to GOV. Kayode Fayemi to return part of the bags of rice brought since March 2020 this morning Monday 22, June 2020."
Meanwhile, the Party Director of Media and Publicity Mr Sam Oluwalana when contacted said he is yet to be aware of the development and promised to get back as soon as he has the details of the event.
However, the reason why the bags of rice were returned is yet to be ascertained as at the time of filling the news.
Below are some of the photos of the rice given as palliative to the state government and the 13 bags returned to the president's aide, Ojodu.