Lekki Massacre: Sanwo-Olu Reveals Number Of People Died In Lekki Toll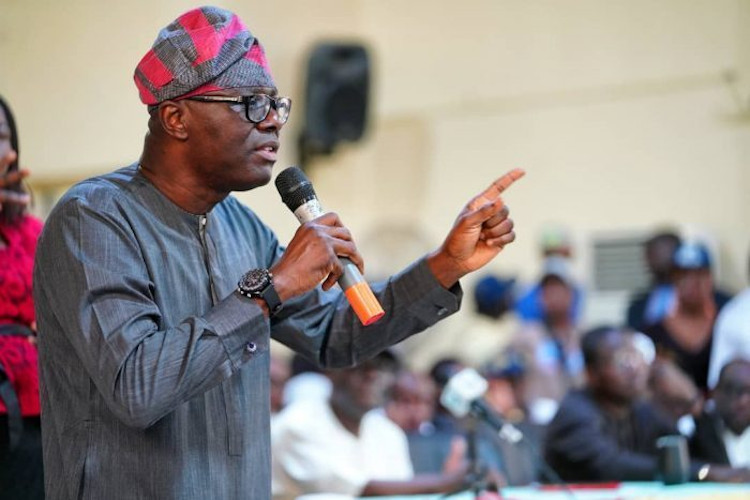 Lagos State Governor, Babajide Sanwo-Olu on Monday has insisted that only 2 persons were shot dead at the Lekki toll-gate shooting with no bloodstain at the scene, Brandnewsday reports.
Recall that Sanwo-Olu was fingered by many Nigerians and concerned citizens of the world over his initial claims that there were no fatalities at the black Tuesday, 20-10-2020 shooting at Lekki. This is conversely to the report making the rounds that no fewer than 15 peaceful protesters died at the scene as Nigerian Army fired live bullets to dispersed innocent protesters at the Lekki Toll Gate at Admiralty Circle Way.
Similarly, the Nigerian Army on Wednesday 21st of Oct, refuted the claim, labelling it as a 'Fake News', that its men were not on the ground as claimed by some people.
READ: #EndSARS: Sanwo-Olu Breaks Silence, Reveals Who Ordered Lekki Toll-Gate Shooting [Video]
Speaking on the incident, Lagos's first citizen, who spoke to CNN's Becky Anderson, finally revealed that "Two dead bodies, that is what we have seen from all the morgues, that's what we have seen going to hospitals, that's what we have seen as a record.
Governor Sanwo-Olu said: "What has happened is that there have been so many footages that were seen, that people have shown, but we have not seen bodies, we have not seen relatives, we have not seen anybody truly coming out to say I am a father or a mother to someone and I cannot find that person.
Lekki Massacre:
"Nobody has turned up. I have been to the ground; there is no scratch of blood anywhere there.
"From the footage that we could see, because there were cameras at that facility, it seems to me that they would be men in military uniform. That's what the footage shows."
He reiterated that there was no international pressure mounted on the government because of the protests, the governor added: "I genuinely believe there would be change.
Babajide Sanwo-Olu
"For two reasons; what has happened, especially in Lagos is extremely unimaginable. It was also a clarion call for all of us in government understanding and realizing what the youths want us to be doing. It hit all of us like a thunderbolt and it was just a wake-up call., Sanwo-Olu declared.
Moving further, the governor revealed that the Close Circuit Television (CCTV), footages will be part of the investigation by the judicial panel already set up to investigate the incident, which according to him has already started sitting on Monday.
Sanwo-Olu said: "People have claimed that their friends and family members have been killed or went missing over the years. That is what the judicial panel is meant to do. It is to answer all the unanswered questions and ensure justice.
"We will invite those who have one case or the other to try and identify those officers who were responsible."