2023: Tinubu Visits Obasanjo, Scores Of APC Supporters Flood Residence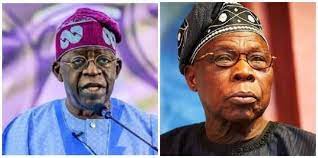 Bola Tinubu, the APC's presidential candidate, paid a visit to former President Olusegun Obasanjo on Wednesday, at which time a large contingent of the party's supporters in Ogun State stormed the former President's Abeokuta home.
At at 1:09 PM, Tinubu and a few other party leaders flew in his helicopter to the Penthouse of the Olusegun Obasanjo Presidential Library in Oke- Mosan, the capital of Ogun State, Abeokuta.
The governor of Ogun State, Dapo Abiodun, as well as Segun Osoba, his predecessor, former governor Gbenga Daniel, and other officials welcomed him.
RECOMMENDED:  I Made 'Two Mistakes' As President When Selecting My Vice – Obasanjo Recalls
His visit was connected to his 2023 Presidential election.
BRANDNEWSDAY reports that the two had not been spotted together since he escorted President Muhammadu Buhari, who was running for office at the time, to Obasanjo's house in 2015.
In March 2015, he attended the former President's 78th birthday celebration in Abeokuta.
Since then, the two of them have maintained their separation as Obasanjo withdrew his support for Buhari and the APC, which he helped to bring to office by ripping his membership card from the Peoples Democratic Party.