Global Spending On Renewable Energy Will Be $243Bn In 2021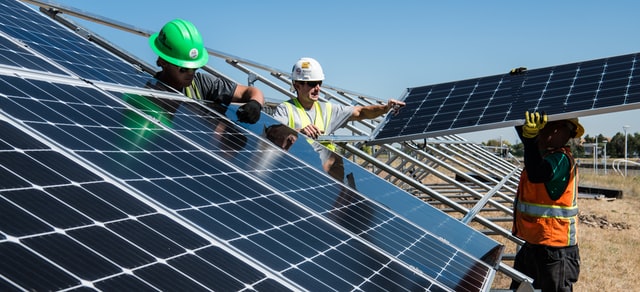 Capital spending on renewables is in a period of robust growth and is on track to match spending on oil and gas.
According to the research data analyzed and published by ComprarAcciones.com, spending on renewables will reach 243,000 million dollars in 2021. That would be an increase of 8.5% compared to 224,000 million in 2020. In contrast, spending on capital (CAPEX) will only increase by 1.6%, going from 306,000 million in 2020 to 311,000 million this year. To have some context, companies in the sector spent 422,000 million in 2019, for only 177,000 million of renewables.
As a result of these trends, spending on renewable energy projects this year will be only 22% lower than oil and gas.
During the year, onshore wind projects will account for a large part of the expense. After $ 94 billion in 2020, they are expected to reach $ 110 billion in 2021. On the other hand, spending on solar energy projects will grow from 88,000 to 96,000 million. Offshore wind projects will have the lowest CAPEX, going from 43,000 to 46,000 million.
Saudi Aramco posts 44% profit decline in 2020, cuts $ 10bn from capex in 2021
In the period between 2019 and 2021, upstream oil and gas spending has been reduced at a compound annual growth rate (CAGR) of 15%. In 2020, companies in the sector had to find ways to reduce exposure due to risky market conditions.
Based on revenue data for 170 publicly traded companies, Rystad's analysis reveals that oil and gas businesses saw revenue drop 23% year on year. In contrast, those dedicated to wind and solar energy saw their sales grow 18%.
Saudi Aramco, the world's largest oil company, suffered a 44.4% decline in its revenue for the full year 2020. However, despite this large drop, the company managed to generate $ 49 billion in profits.
That was Saudi Aramco's second full annual report since it went public. Prior to its IPO on the Tadawul Stock Exchange, Saudi Aramco reported annual revenue of $ 111.1 billion in 2018.
In 2019, the figure fell to $ 88.2 billion, but that did not prevent it from being the most profitable public company in the world, according to Statista. Current results, however, place it behind Apple, which earned $ 57.41 billion in 2020.
Additionally, Saudi Aramco was the most valuable listed company when it went public, with a market capitalization of $ 1.7 trillion. Its value has since dropped and it has lost the title to Apple. As of April 14, 2021, its market capitalization is 1.89 trillion, according to Marketwatch. On the other hand, Apple is valued at 2.26 trillion.
The company is optimistic and kept its dividends for 2020, a total of 75,000 million. It expects to return to pre-pandemic oil production levels by the end of 2021.
Its capital expenditures in 2020 fell 18% to $ 27 billion, down from $ 32.8 billion a year earlier. In 2021, it expects total capital expenditures to be $ 35 billion, a figure that could be $ 10 billion lower than previously forecast.
Exxon Mobil cuts 2021 capex by $ 16bn, Chevron by $ 8bn
Saudi Arabia's oil giant joins a crowd of big oil companies that plan to cut capital spending significantly in 2021.
US oil company Exxon Mobil announced plans to keep its annual spending at $ 19 billion or less for the year. It had previously estimated a capital expenditure of 35 billion per year with the goal of increasing production. In the period between 2022 and 2025, its annual spending on projects will range from $ 20 to $ 25 billion.
According to S&P Global, its production will remain static from 2020 levels, at 3.7 million barrels of oil equivalent per day (boe / d) through 2025. Its previous production forecast was 5 million boe/d.
Exxon Mobil suffered its first annual loss in decades in 2020. From a profit of $ 14 billion in 2019, the firm went to a loss of $ 22.4 billion. That came after a 30% decline in revenue, to $ 181.5 billion.
On the other hand, Chevron projected capital expenditures and exploration costs of $ 14 billion through 2025. That was significantly lower than its previous forecast of up to $ 22 billion. In 2021, it plans to spend $ 11.5 billion on exploration and production. Operations related to the refinery will amount to 2,100 million in that period.
Its spending in the Permian basin in 2021 is estimated at 2 billion. That would be half the figure he estimated in early 2020 and well below the $ 3.6 billion spent in 2019.