EDO 2020: Obaseki Speaks On Buying PDP Governorship Ticket If…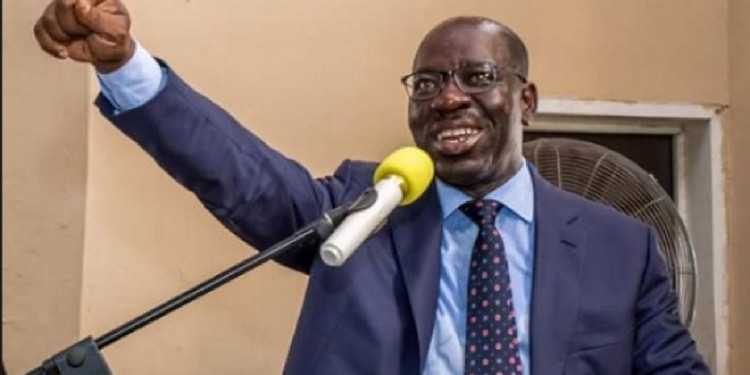 ­The Governor of Edo State, Godwin Obaseki has refuted the rumour making rounds that he would buy the governorship ticket of the opposition party, People's Democratic Party (PDP).
Brandnwesday reports that Governor Obaseki denied obtaining another party's governorship ticket allegation levelled against him while speaking with journalists in the party's secretariat, Abuja. Adding that why would he engaged in such acts when there were people who had been disqualified for buying two parties tickets in the past.
Recall that the main opposition party in Edo State has wooed Obaseki to joined the party if APC failed to offer him the party return ticket.
This news medium had reported that Obaseki had set the record straight on who is a betrayer between him and his predecessor. He said Oshiomhole betrayed him despite serving him for eight years without receiving any financial gain.
READ: Edo 2020: Obaseki Fights Oshiomhole Dirty, Called Him 'A Betrayer
He said: "In life, everybody gets help; everybody gets assisted. We knew what we did to make him governor. I sacrificed eight years of my life pro bono, I collected no kobo to serve him in Edo. Today, we know what we have built because of where we started from.
"So, when you talk of betrayal, the biggest betrayal can be when people betray a cause when they betray an idea. That is the greatest betrayal of all. It is like betraying God. when you said to God, this is what I stand for, and then God gives you the power and you turn around and do the exact opposite, there is no greater betrayal than that.
READ: How I Made Oshimole Governor And APC Chairman-Obaseki Reveals
"So, when you talk about betrayal, let us be very clear. I want to put it on record that I am grateful, he assisted me just as I assisted him. I know the sacrifices we made to make him national chairman. So, what are we talking about?"
Obaseki Speaks on Joining PDP
Meanwhile, Governor Obaseki debunked the rumour of joining the main opposition party. He said: "How can I collect a form from two parties (Apc and PDP) when we have rulings in the past disqualifying people on that?
"I am a party man to the core. APC is my party because I come from a progressive political family.
"I believe in the ideals of APC, I believe in our President, I believe in what he stands for. So, I am a party man to the core. I am not an old-style politician. I represent a new direction of politics that is based on facts and truth, not lies," he commented.
Speaking on the mode of primary to be adopted in the Edo 2020 governorship primary, Obaseki said: "The bases of any democracy are the rules, that is why the most important document in our party is our constitution. Our constitution is very detailed and it spells out clearly how we should undertake our affairs as a party.
"The constitution stipulates what mode of primaries is allowed in our party and how decisions to the type of primaries you want to run should arrive that. It's clearly stated in our constitution and so, for me, I believe that, as a lawful party, we will do things according to the constitution. So, direct or indirect, I am certain I will win the primaries".
Speaking on victory, Obaseki claimed that he was sure of victory, whether the party adopted direct or indirect primaries but he laid emphasis on the need to follow constitutional requirements.