Edo 2020: Obaseki Fights Oshiomhole Dirty, Called Him 'A Betrayer'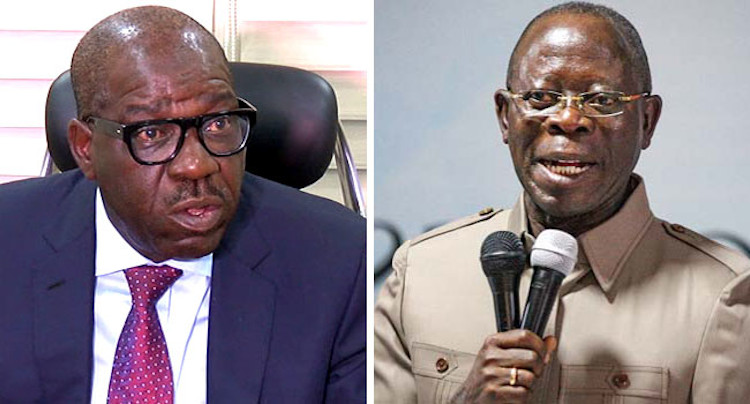 Edo State Governor, Godwin Obaseki, has described the All Progressives Congress (APC) National Chairman, Adams Oshiomhole, as a betrayer despites his failed promises to God.
Brandnewsday reports that Governor Obaseki disclosed this while addressing journalists after submitting his expression of interest and nomination forms at the party's secretariat, Abuja. Obaseki made it known that the APC National Chairman betrayed God.
Explaining how a betrayer could be, Obaseki said 'the biggest betrayal is when people betray a cause when they betray an idea. That is the greatest betrayal of all. It is like betraying God.'
Governor Obaseki also made it known that he sacrificed a lot to ensure Oshiomhole emerged as the Edo State Governor and became the national chairman of the APC.
Speaking further, the governor revealed that he was part of the process that made Oshiomhole, claiming the former governor was broke before when he contested for governorship and needed help.
Edo 2020: Obaseki sends warning to Adams Oshiomhole
Meanwhile, Obaseki has warned Oshiomhole to stay off from participating in the forthcoming nomination process for the APC gubernatorial ticket. Adding that he is an interested party, he could not be trusted to guarantee the credibility of the process.
"In life, everybody gets help; everybody gets assisted. The person talked about (Oshiomhole) had no money when he left labour to contest (as governor). We knew what we did to make him governor. I sacrificed eight years of my life pro bono, I collected no kobo to serve him in Edo. Today, we know what we have built because of where we started from.
"So, when you talk of betrayal, the biggest betrayal can be when people betray a cause when they betray an idea. That is the greatest betrayal of all. It is like betraying God. when you said to God, this is what I stand for, and then God gives you the power and you turn around and do the exact opposite, there is no greater betrayal than that. So, when you talk about betrayal, let us be very clear. I want to put it on record that I am grateful, he assisted me just as I assisted him. I know the sacrifices we made to make him national chairman. So, what are we talking about?"
Speaking further, the Edo State Governor stated: "However, I am using this opportunity to call on Oshiomhole to recuse himself from the Edo nomination process because he is an interested party. It is against natural justice for a man to be a judge in his own case. So, I think the honourable thing to do is to excuse himself and let's have a free process and let's reconcile and build our party."
Governor Obaseki Speaks on why he needs to be re-elected
On reason, while bidding for re-election; Obaseki said: "Three years is not enough, four years is not enough, to crystallise all these reforms. So, another four years will give me that opportunity to consolidate on what we have done. That is a promise of APC; we are a reformist party, we are a progressive party. That's why I am here today to indicate my interest and my desire to run for another term as governor of Edo State so that I can continue in the service of my people."
Speaking on victory, Obaseki boasts that he was sure of victory, whether the party adopted direct or indirect primaries but laid emphasis on the need to follow constitutional requirements.