Aliko Dangote, Shareholders Make Over N109.76bn As Bua Cement's Rabiu Abdulsamad, Others Made Nothing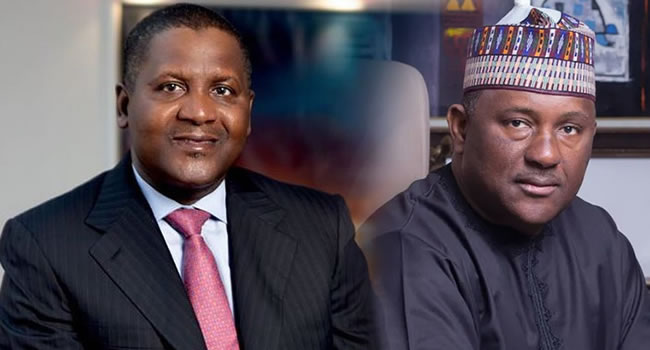 Aliko Dangote, Shareholders take Over N109.76bn As Rabiu Abdulsamad, Others Made Nothing, can be accessed below.
Shareholders' investment in Dangote Cement grew by 2.37% after four days of trading this week while its market competitor, BUA Cement, didn't offer its investors much to be excited about.
Brand News Day reports that Dangote Cement shareholders alongside Aliko Dangote, share N110.76 billion at the end of this week's trading session, as high demand in the firms' stock forced the company's market capitalisation up.
This puts shareholders' total investment in Dangote's cement business at N4.77 trillion, up from last week's Friday's N4.66 trillion – thanks to its stock value jumping to N280 per share, from N273.5.
Rabiu Abdulsamad Bua Cement
While investors at Dangote Cement were busy counting their gains, shareholders at BUA Cement, led by Rabiu Abdulsamad, were left empty-handed within the four days of capital market activities.
BUA Cement's share remained flat during the period under review, trading at N70.75kobo per share this week, which saw the firm's shareholders' investment stagnant at N2.39 trillion.
What you Should Know About BUA Cement Plc
Recall that one of Africa's largest Cement companies held its Annual General Meeting for the period ended December 31, 2020, to 2021 as it paid dividends of N70billion at N2.067k per ordinary share in a move that shareholders applauded.
BUA Cement Plc is Nigeria's second-largest cement company and the largest producer in its North-West, South-South, and South-East regions; BUA Cement operates strategically from Okpella, Edo State and Kalambaina, Sokoto State.
Currently, the second most capitalized manufacturing company on the Nigerian Stock Exchange (NSE), BUA Cement is committed to quality – a differentiating attribute, driven by its people, innovation, and technology; and positioned to solve Nigeria's cement under capacity while driving economic growth and development.