Dettol promises to provide hygienic protection for the Super Eagles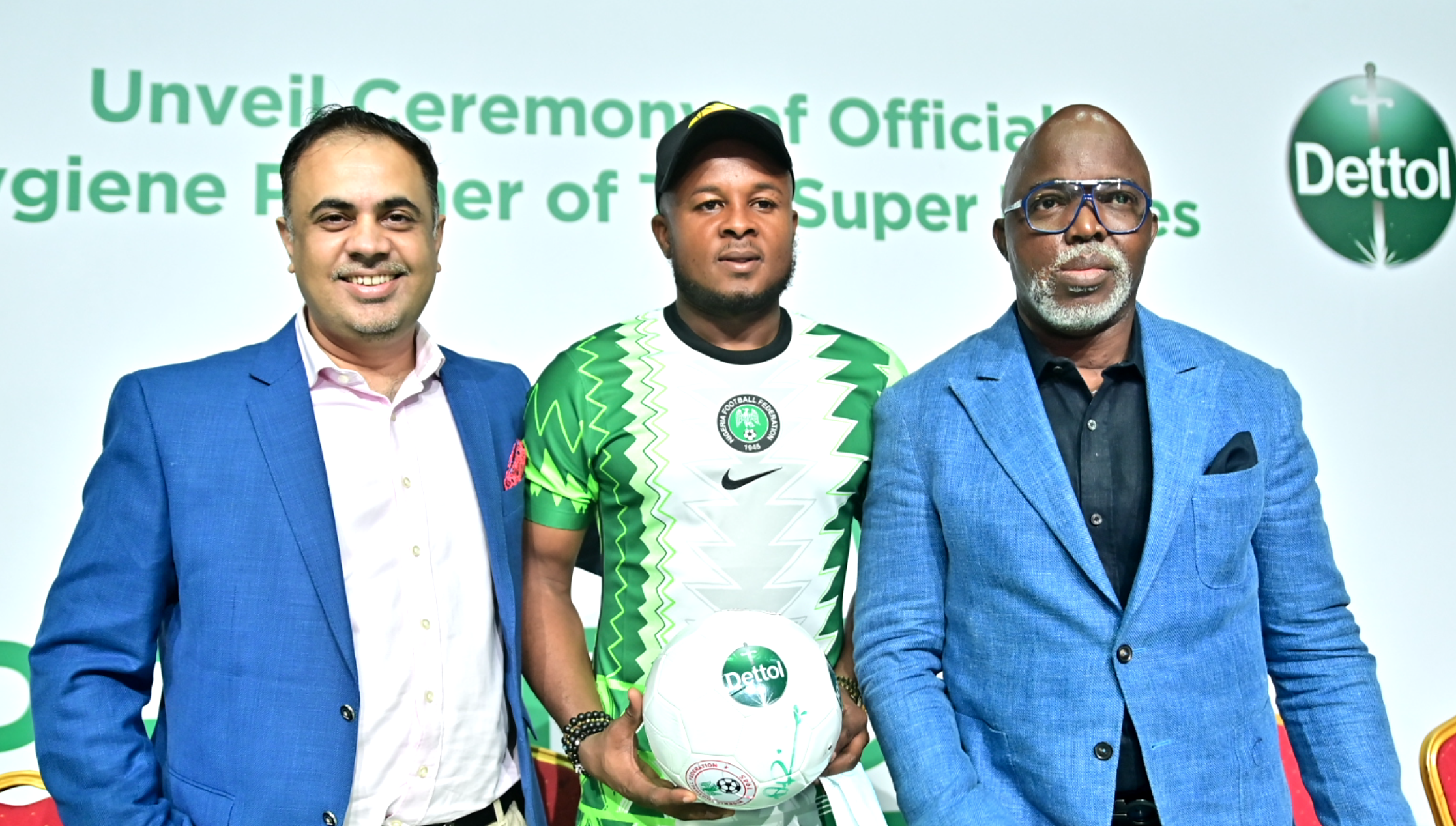 The General Manager Reckitt, Sub-Saharan Africa, Akbar Ali Shah has said that Dettol will provide hygienic protection for the Super Eagles during the pre and post-match activities especially the Qatar 2022 world cup qualifiers.
"Every year, the Super Eagles fly Nigeria's flag high on the continental and global football stage. Behind every kick of the ball, every goal, every celebration is the spirit of over 200 million people willing on their team. The Super Eagles continue to march on, overcoming obstacles in the quest for more glory and silverware, and we are proud to be a part of this".
As important as passion and tenacity are, they can only be possible if one is in good health. To paraphrase the great Mahatma Gandhi, it is health that is true wealth, and not gold and silver. At Reckitt, we embody this statement. It is carved into our history. It is what drives our purpose and inspires us, that mission to protect, heal and nurture in the relentless pursuit of a cleaner and healthier world.
Furthermore, Mr. Ali Shah said that "there is no better time to emphasize health than this period we're in. We're in unprecedented times, journeying through uncharted territory and navigating a global pandemic that has changed the way we live, socialize, and do business. It has even changed the way we play and experience the beautiful game of football. So, we must now be more conscious of our health than ever before."
"A vital part of healthy living is good hygiene, and no other brand in Nigeria epitomizes this like Dettol. For over 50 years, Dettol with its antibacterial range including soap, antiseptic liquid and hand sanitizer has helped prevent infection and sickness in Nigerian homes, helping millions of families remain sickness-free. Besides their love and appreciation for Dettol, these millions of Nigerians have in common their love for the beautiful game. Football unites Nigerians and brings out an incredible level of passion."
It is in this spirit of unity and shared passion for the game that we are pleased to announce our partnership with the Nigerian Football Federation as the official hygiene partners of the Super Eagles.
Still Speaking "Dettol will provide hygienic protection for the Super Eagles during their pre and post-match activities as it already does in several Nigerian homes. It will keep the players in good health, powering them on their quest to entertain Nigerians and bring home the 2021 African Cup of Nations and the 2022 FIFA World Cup. Not only that, Dettol will also work hand in hand with NFF to provide hygiene support to the football fans of Nigeria and to bring the football back to normalcy with due hygiene protection.
Over the years, we have shown our commitment to the well-being of Nigerians. In 2019, we launched the Clean Naija Initiative where we created awareness and educated Nigerians about the importance of hygiene and how simple things like proper hand washing helps keep you healthy and prevent communicable diseases. Our objectives were clear, we wanted to reduce diarrhoea-related child mortality in Nigeria, cut down the amount of Malaria-related deaths, and eradicate open defecation. So far, this initiative has been successful."
On the issue of School program, Akbar Ali Shah stated that "Through our School Hygiene program, we have reached over 6.5 million students, teachers and parents in Nigeria and educated them on positive hygiene habits and practices.
We have also reached over 5 million mothers through our new mums program in hospitals, educating them about the impact of good hygiene practices on their families."
Last year, at the height of the pandemic, we doubled down on our efforts to ensure good hygiene and play our role in the fight against COVID-19.
Nationally, we partnered with notable bodies to drive awareness on the practice of COVID protocols and donated hand wash units and hygiene products to the Federal Ministry of Health in their fight against COVID.
In association with the Lagos state government, we supported 180 schools and educated the students on basic hygiene practices. We also partnered with the Ogun and Kano state governments, supporting them with hygiene products distributed to over 50,000 households across these states.
To assist people living with HIV/AIDs in Nigeria, we partnered with the UNAIDs to reach these vulnerable people through our product donation. We have a long history of commitment to the well-being of Nigerians.
Reckitt has partnered with top sports teams and organizations across the world in countries such as Australia, USA, England and New Zealand. Through all these partnerships, we have reinforced and promoted healthy hygiene habits and helped protect the athletes' as well as the fans' health. We bring this same level of commitment to the Super Eagles and its fans. Through this partnership, we know the Super Eagles will continue to soar.