Goldberg Ariya Repete 2020 Bows Out In Grand Style (PHOTOS)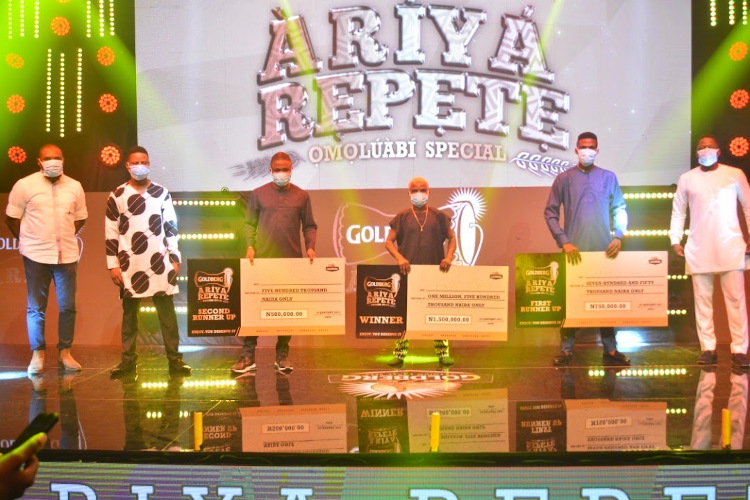 Goldberg Lager has gracefully wrapped up its proprietary music talent show, Ariya Repete 2020 edition in stunning style Brand News Day reports.
After several months of undiluted sparkling musical performances, Ariya Repete 2020 finally came to an electrifying ending, Sunday, January 25, 2021.
Meanwhile, the grand finale was hosted by renowned TV personality, VJ Adams, featured some truly awe-inspiring moments, culminating in a remarkable end to such a beloved show.
All four finalists treated the audience at home to some spectacular performances as they showed why they have gotten this far in the competition. It wasn't an easy call for the Judges and voters who had the near-impossible task of selecting the winner of the grand prize.
Prior to the finale, Goldberg has put together a series of exciting events which created some palpable anticipation for the concluding episode. This included a mentorship session with brand Ambassador, Olamide, as well as some radio rounds which gave the contestants one last chance to galvanise their fans.
Goldberg Ariya Repete 2020 Bows Out In Grand Style (PHOTOS)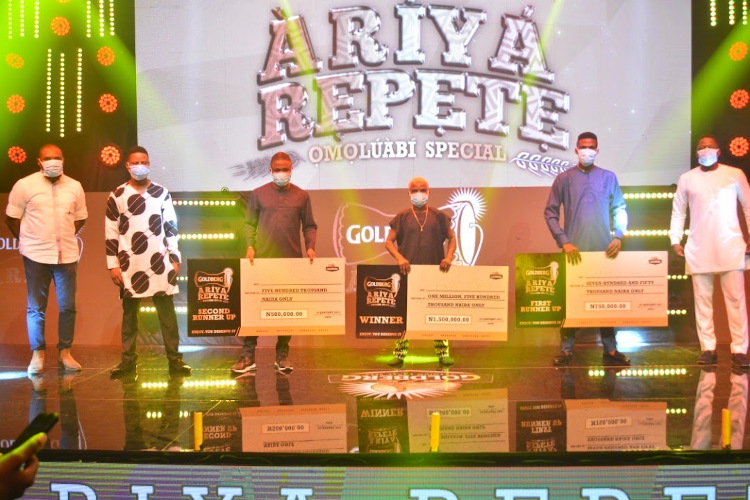 With 3 million Naira up for grabs, all the final contestants delivered stellar performances, as they all vied for the top spot. Olamide also produced a truly momentous performance to cap off a special night.
After all the votes were counted, Babatunde Abideen (Babzman), Prince Sunny Gold (PSG) and Ojaduwa Emmanuel (Dr Flowz) emerged as first, second and third respectively. Speaking after the show was the winner of the showpiece, Babatunde Abideen (Babzman) who couldn't hold his excitement – "I am just so grateful to everyone who voted, everyone who supported me and to Goldberg Lager. I am very thankful", he said.
READ: Goldberg Lager Restores Popular Cultural Centre In Oyo State
Also remarking on the conclusion of the showpiece was Portfolio Manager, Mainstream Lager, Nigerian Breweries, Omotunde Adenusi who said, "It's been a great show, and I'm glad to see these talented acts emerge as winners. I believe, however, that everyone who has come on the show is a winner, and we are proud of the talents we have uncovered over the course of these two months."
Ariya Repete is proudly sponsored by one of Nigeria's foremost beer manufacturers, Goldberg Lager. The beer brand consistently pushes the bar of excellence by continually providing fans and consumers with remarkable experiences which dial up the culture and traditions of the people, whilst also appreciating modern social conventions.