#Ekitialert: 21 Things Ekiti State Government Will Deliver In 2021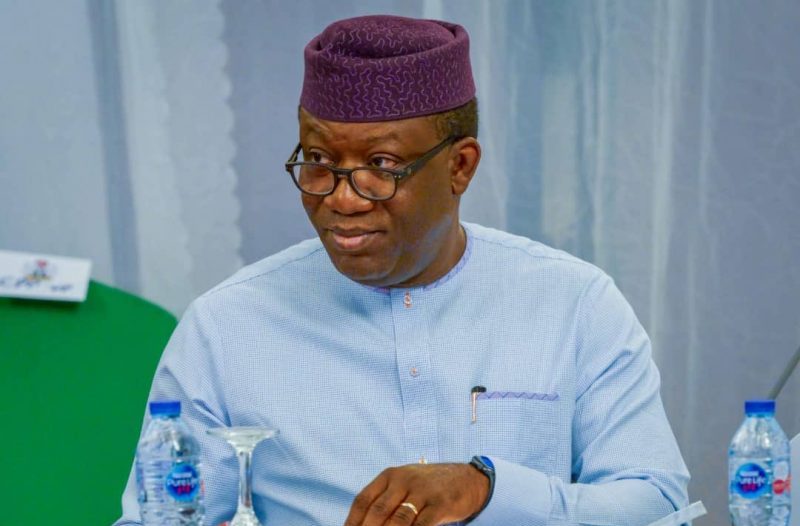 In his two years as the Ekiti State Governor, Dr. Kayode Fayemi took swift actions to address Ekiti State's severe socio-economic crisis and began pushing reforms, legislation, and programs to reshape every aspect of the economy, from infrastructure and agriculture to education and social investments.
In preparing to face the post-COVID-19 challenges and ensure fast economic recovery, Governor Fayemi has laid out 21 goals for Ekiti in the five pillars of his developmental agenda for the year 2021.
Here is a look at what to expect in Ekiti State in 2021.
Complete MTN Broadband Network looping all four universities – EKSU, ABUAD, FUOYE, and the new Bamidele Olumilua University of Education, Ikere-Ekiti, in the first round, later to Federal Polytechnic, Ado-Ekiti, and College of Agriculture and Technology, Isan-Ekiti
Provide Potable tap water to communities in 14 LGAs on Completion of Ero and Egbe Dams Rehabilitation
Complete and Commission the following ongoing road projects:

Phase 1 of 2-lane dual carriage New Ado-Iyin-Igede-Aramoko-Itawure road (Length = 7km 4-lane road; Ave. Width = 8.8m/lane),
Agbado-Ode-Isinbode-Omuo road (Length = 30.5km; Ave. width = 7.3m),
Ilupeju-Ire-Igbemo—Ijan Road (Length = 25.6km; Ave. Width = 10.3m),
Oye-Ikun Road Road (Length = 34.4km; Ave. Width = 7.3m),
Aramoko-Erijiyan-Ikogosi Road (Length = 13km; Ave. Width = 7.3m),
Ado-Ilawe-Igbara-Odo-Ibuji Road (3km construction + 7km rehabilitation).

Begin construction of the 17km first phase of the Ado-Ekiti Ring Road project connecting the new airport to Igbemo, Iworoko, and the Ifaki axis.
Complete 3-megawatt Independent Power Project to supply power to public institutions including the State's Secretariat, Ado metropolis street lights, Ekiti State Teaching Hospital (EKSUTH), Ekiti State University (EKSU), and Government House.
Install Solar-powered refrigerators for vaccine storage in 177 Primary Healthcare Centers (1 per Ward)
Operation Renovate All Schools and Construction of new schools in Ekiti State
Comprehensive face-lift, equipment upgrades and additional staff for all 3 Specialist Hospitals in Ikole, Ikere and Ijero, 21 General Hospitals and upgrade of additional 60 primary health facilities.
Begin the construction of 50,000 affordable homes over ten years, with support from the United Nations Office of Project Services (UNOPS) and start building 1000 units of social housing for public workers at low interest, affordable mortgage, with support from Family Homes Fund.
Start laying 600km of fibre optic infrastructure in the first quarter of 2021 by IHS.
Complete ongoing installation of 240km of fibre optic infrastructure in 4 Local Government Areas by MTN
Introduce Ekiti Values Orientation Curriculum in all Primary and Secondary classes.
Provide instructional materials to all public schools and constant payment of running grants to Ekiti State's primary, secondary, and technical schools under Governor Fayemi's free and compulsory education programme.
Complete all abandoned secretariat blocks and the landscaping and beautification of the entire Secretariat complex.
Gradually clear the balance of inherited outstanding salaries as the economy improves in Ekiti State.
Strengthen Ekiti State Security Network, "Amotekun" on training, technology, and equipment to keep Ekiti safe.
Launch Ekiti Safe City Project to boost security and safety in the state.
Start the construction of Ekiti Seniors Recreation Centre with ultra-modern facilities for the use of the elderly.
Support victims of Gender-Based Violence (GBV), and empower the girl-child and women.
Revive Local Council Development Areas (LCDAs) and Conduct fresh Local Government Elections
Support development projects for rural communities and provide resources to SMEs through Trade Associations under the STATE CARES initiative to grow the local economy.