Top Media-Performing CEOs In Banking, Insurance And Telecommunication Sectors In Q3, 2023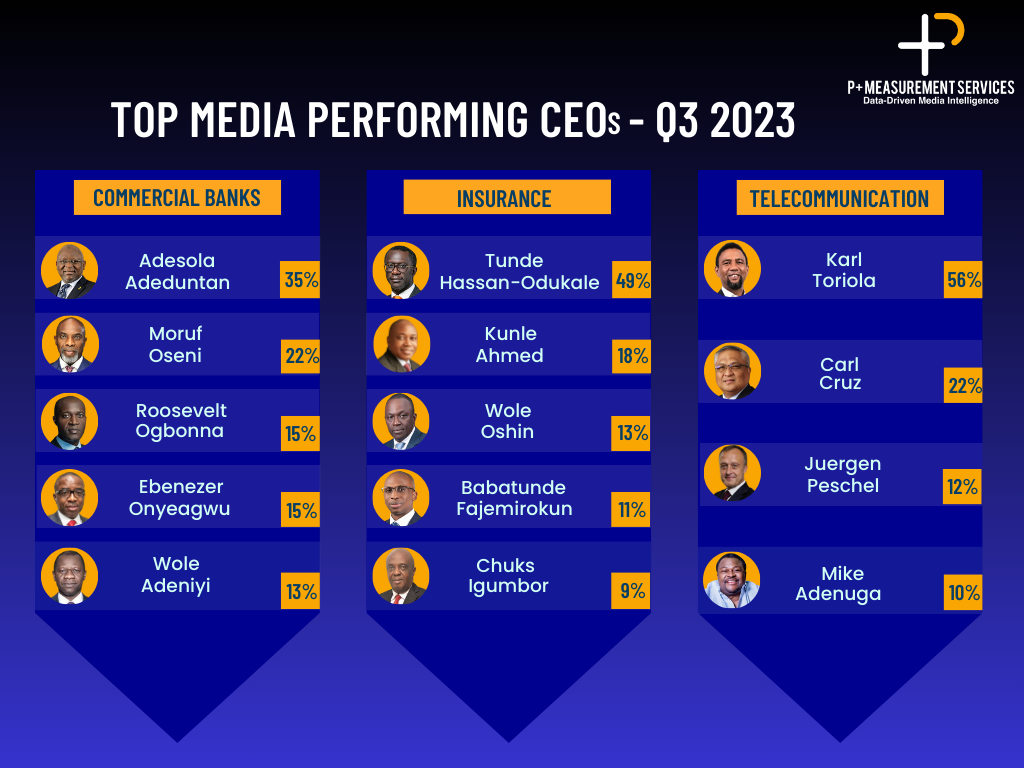 Top Media-Performing CEOs  – In the ever-evolving landscape of Nigeria's banking, insurance, and telecommunications sectors, the role of public relations, media performance audits, and intelligence cannot be understated.
P+ Measurement Services, a leading media intelligence consultancy, analyzed the dynamic media landscape for these industries for the third quarter of 2023. This analysis focuses on Nigerian commercial banks, insurance providers, and telecommunications companies, providing essential insights that CEOs and C-suites can use to improve their media reputations, and thought leadership engagement, and navigate the multifaceted landscapes of public perception.
The media analysis monitors over 1.3 million online publications in the local and global media space, including blogs, news sites, forums, and digital media, as well as approximately 1,400 print publications (including daily, weekly, and monthly publications), from which various meta-data were harvested.
Through detailed media data gathering, analysis, and audit of salient valid PR metrics of 28 commercial banks, the top 10 leading insurance companies, and 4 telecommunication brands, the report ranked the top CEOs (Commercial Banks, Insurance, and Telecommunications) prominently in the online and print media.
According to the analysis, the CEO of First Bank of Nigeria, Adesola Adeduntan, sits at the top of the leaderboard with a 35% media share. Following closely is Moruf Oseni of Wema Bank with 22%, while Roosevelt Ogbonna of Access Bank and Ebenezer Onyeagwu of Zenith Bank tied with 15%, respectively, and Wole Adeniyi of Stanbic IBTC Bank completed the chart with 13%.
Out of the ten leading insurance brands monitored, the media performance audit report revealed that the CEO of Leadway Assurance, Tunde Hassan-Odukale, had the most media exposure (49%), followed by Kunle Ahmed of AXA Mansard Insurance with 18%, Wole Oshin of Custodian Investment Plc with 13%, Babatunde Fajemirokun of AIICO Insurance with 11%, and Chuks Igumbor of Prudential Zenith Life Assurance with 9% media exposure.
In the Nigerian telecommunications sector, the media intelligence revealed that the CEO of MTN Nigeria, Karl Toriola, had the highest media exposure (56%), followed by Carl Cruz of Airtel Nigeria with 22%, Juergen Peschel of 9mobile with 12%, and Mike Adenuga of Globacom with 10% media presence.
Download Q3 2023 #NigerianBanking #Insurance #Telecommunication #CEO Media Performance Audit Report here.
About P+ Measurement Services
A leading and rapidly expanding independent media intelligence consultancy, P+ Measurement Services is an AMEC member and one of Nigeria's top media intelligence providers. The organization serves as a media watchdog and technical support to communications and public relations managers and public relations agencies, by assisting them in keeping track of the media health of their brands and auditing media performance.