Fidelity Bank Sacks Over 200 Staff 'Verbally' Amidst High Unemployment Rate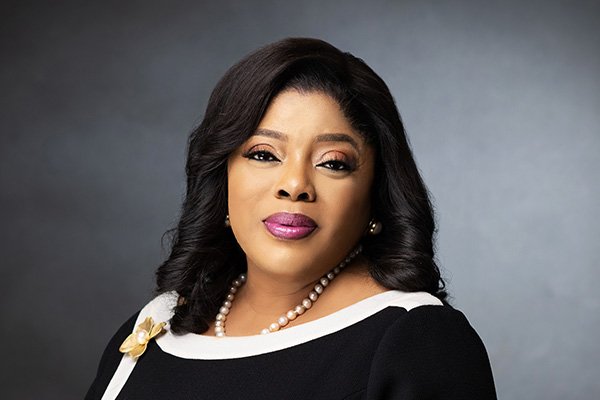 In a recovering economy and increasing unemployment rate, Fidelity Bank under the surveillance of Nneka Onyeali-Ikpe has allegedly laid off over 200 staff of the bank.
Brand News Day Nigeria gathers that the sacked Fidelity Bank staff were given their disengagement letters with just N200,000, not minding years of service as compensation after attending regional training.
According to the email sent to the laid-off employees, and received by Brandnewsday, the staffers were asked to attend a training on the designated date and at a location based on their workplace's region.
Workers from the South West gathered in Lagos for regional training, while others gathered in Abuja and Kano.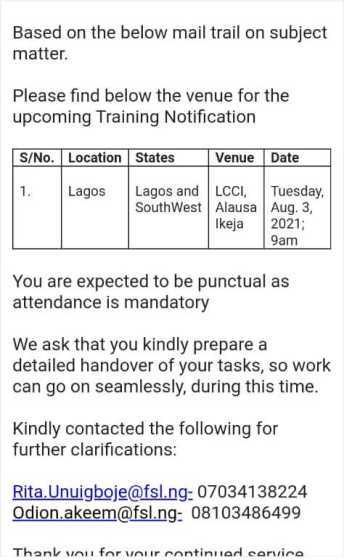 According to Tola, one of the retrenched staff, "None of us had any idea what the training was going to be about. We went since it was from the bank, and we were taught how to be POS operators. I took the course at the Lagos Chamber of Commerce in Ikeja".
After the training, Akeem Odion, Head of Operation, Fidelity Union Securities Ltd (FUSL), addressed the participants and informed them that they no longer worked for the bank. He vowed that the bank would compensate them in some way, but he had no idea how much.
Similarly, one of the affected employees identified as Patricia claimed she had to travel while pregnant, experiencing the agony only to arrive at training and be told verbally that they had been fired.
"As indicated in the correspondence, people from various branches attended the training. I travelled to Lagos from Ado-Ekiti with a three-month pregnancy, only to be informed that I had lost my job during the training. Why didn't they just send an e-mail instead? We could have saved a lot of time and effort if we had just sent the mail directly," she explained.
After the verbal announcement, they received emails advising them of their disengagement a few days later. The email, however, left a sour taste in the mouths of the employees because it said that they would be paid an ex-gratia rather than severance pay, as many of them expected.
READ: EFFC Arranges Top Staffers Of Fidelity Bank For Stealing Over N200 Million Customers' Money
"Rather than telling us we had been fired, they organized a workshop to educate us how to become independent POS operators who could still produce money for the bank even if we were fired," another one said.
"We know we won't be able to work for Fidelity indefinitely, but all we want is to be paid what we're owed.
However, some of the aggrieved staff argued that they had dedicated a significant portion of his life to the bank and, as a result, deserved a fair severance payout rather than an ex-gratia payment.
Tola said he began working at the Nnkea Onyeali-Ikpe-led Fidelity Union Securities Ltd (FUSL) in 2007 as a staff member with an Ordinary National Diploma (OND).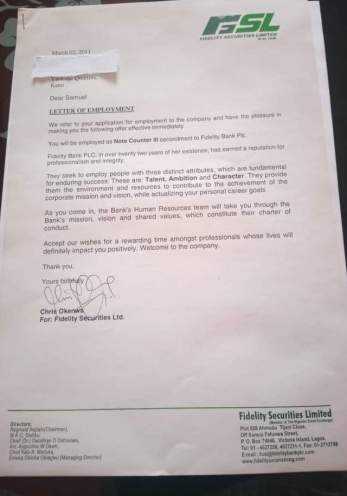 He and many other tellers were promised that if they sought and submitted their Higher National Diploma (HND) or undergraduate degrees, they would be promoted to full staff.
Tola isn't the only FUSL employee that has spent that much time with the company.
The retrenched employees' efforts to ensure that they receive a fair remuneration that is commensurate with their contributions to the bank have been fruitless.
In a corresponding capacity, Fidelity Bank, which has an appetite for controversy as since before now had portrayed a similar scenario in 2017 while drivers protested and argued for their illegal laid-off.
Recall that in 2017, about 50 dismissed drivers blocked the Fidelity Bank's headquarters on a Monday morning because their severance payouts had not been paid.
The bank's drivers also staged a protest in 2018 over non-payment of their entitlements.
When approached, FSL's Head of Operations, Akeem Odion, stated he couldn't respond over the phone. He invited the reporter to his office for answers to the reporter's inquiries.
Sheikh Muhammed, Secretary of the National Union of Banks, Insurance and Financial Institution Employees (NUBIFIE), a Nigeria Labour Congress (NLC) affiliate group, said on Friday that the organization had been informed of the ongoing dispute and was trying to resolve it.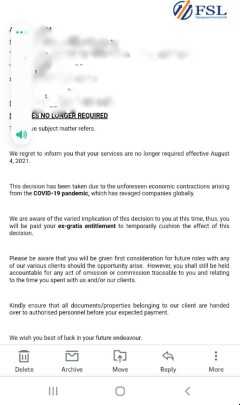 "I received the report and directed them to gather all of the issues so that we may begin a conversation with management. Sheikh stated, "We are working on it."
What You Should Know About Fidelity Bank
The recently laid off 200 staff were not the first sects of staff the bank sacked in recent years.
Fidelity Bank's approach to laying off staff was against the banking ethics as staffers were allegedly informed through a verbal mode of communication.
Nneka Onyeali-Ikpe, before assuming the throne of MD/CEO, drivers of the bank were laid off in 2017 without being paid their entitlement. Marking the second massive lay-off of the bank within 5 years.
Recently, within a spere of a month or two, Fidelity Bank has made headlines for negative stories.