Again, Wema Bank Swims In Another Scandal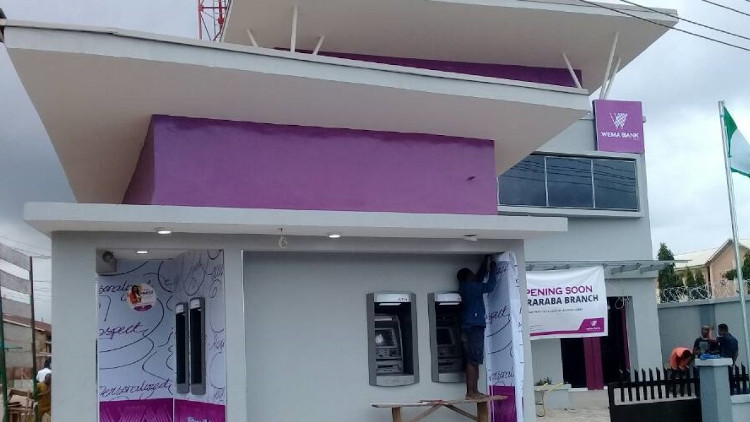 Wema Bank, Nigeria's financial institution of choice in service delivery, again, has appeared in headlines in another scandal, dragging the integrity of the bank to mud.
Brandnewsday understands that the Nigerian Bank has been alleged to lack good human management of its staff and shading some tops officers of the bank in spite of misconducts.
Recall that the Managing Director/CEO of the bank, Ademola Adebisi and other top officials of the bank still have questions to entertain with the Economic and Financial Crimes Commission (EFCC), following allegations of money laundering of about N1 billion.
According to reports, Wema Bank's CEO all together with his top staffers allegedly laundered the said sum using the account of an unaware customer without his consent.
Moving forward, the bank has been fingered in another scandal, involving the Chief Human Resources Officer of the bank, Ololade Ogungbenro, accused of misconducts of her inferiors.
According to a source, Ogungbenro has turned some junior staffers at her unit, into slaves.
The bank CHRO who assumed her office sometime in 2019, is said to have turned a modern financial institution into an old-fashioned kingdom.
An eyewitness testified that "are flagrantly disregarded if not trampled upon with boasts by Ololade, who incidentally is a Pastor in the fastest-growing Pentecostal church."
Insiders alleged that resignations, request for deployment to other divisions, sicknesses, fears, collapse at the workplace have been a lot of the workers in the bank, especially her unit which has affected the morale, confidence, self-esteem and work output of staff.
The latest was said to be another married lady (name withheld), who was allegedly verbally abused for over one hour on Wednesday 24th February by the woman.
According to the eyewitness: "She was crying hysterically for that long while absorbing the abuse and that led to her collapse and eventual emergency evacuation by staff to a private hospital Gbagada where she was immediately placed on admission.
"The woman fainted several times on the way to the hospital and while receiving treatment.
"The psychologist at the hospital reviewed her when she temporarily regained her consciousness, expressed the huge impact of the emotional trauma on her and advised her to resign from that office as it is a threat to her life".
This same scenario reportedly occurred a few months ago when the parents of one other staff, who heard verbal abuses and a threat to their daughter's life requested their daughter to resign "even though she was one of the best hands of the department."
"The phone conversation of the verbal abuse was with the lady who had to resign in order to still be alive. It was said that management swept this under the carpet again.
Again, Wema Bank Swims In Another Scandal
"Another classical example is another woman, whose name was not mentioned. Ololade turned this lady into a nervous wreck and frustrated the life out of her.
"Luckily when she was almost at her wit's end, she made personal moves and got redeployed to another unit with a humane boss. The woman has regained her lost glory, she regained her self confidence, she is glowing and flourishing in her new unit.
Interestingly, while all the staff of the bank are aware of Ololade's unprofessional attitude, the blind eyes turned by the Management is a source of worry," the source added.
It was further alleged that mere dislike of your face by Ololade was "enough reason to make life miserable for any staff and her boasts from the first day of her engagement that she is known as Mrs Fire ( apparently from the way she fires staff which she derives pleasure in doing) sends cold to workers spine."
It is gathered that some of the bank staff who have been "beneficiaries" of her harassment and unprofessional conducts are perfecting their papers to approach Industrial Court "since the top Management seems to be in her pocket for whatever reasons."
Efforts by our reporter to reach Funmilayo Falola, the head of Brand and Marketing Communications of Wema Bank, for the bank's angle to the allegations proved futile as calls and text message placed to her mobile lines were not responded to as at press time.
-additional report by First Weekly